Shipped on the same day if you order before 4 PM
Free shipping from € 50
Are you pregnant and suffering from blemishes on your skin and some congested skin perhaps? And would you like to have (and keep) soft and clean skin? Then we prescribe the vegan vehicle cleanser + ascorbic acid 20% + vegan vehicle cream + niacinamide 7%, which you can safely use during your pregnancy. With a simple recipe you will see results after just 2 weeks. Read below how to mix & match these actives. And watch the video for your recipe.
Currently this product is viewed by
others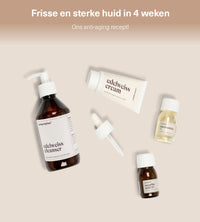 Pregnant + Blemished Skin - Skin Concern Package
€132,00