Shipped on the same day if you order before 4 PM
Free shipping from € 50
Is your skin troubled and prone to congestion and/or blemishes? And would you like to have (and keep) calm and strong skin? We then prescribe the vegan vehicle cleaner + mandelic acid 20% + meso cocktail + vegan vehicle cream + niacinamide 7%. With a simple recipe you will see results after just 2 weeks. Read below how to mix & match these actives. And watch the video for your recipe.
Currently this product is viewed by
others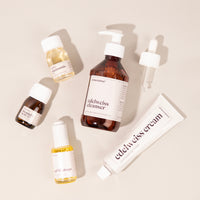 Restless Skin - Skin Concern Package
€184,50